How you can save money while shopping with the Earny app
Shopping online is amazing in many ways: an almost infinite variety of items that magically appear on your doorstep. The downside, however, is that you are never entirely sure that you are getting the right price. Worse still, when you finally make the purchase … only to find out your item went on sale the next day!
Earny is an app and browser extension that can remove that frustration for you by securing refunds for items that have fallen in price. Read on to learn more about how it works.
What's Earny?
Earny is a shopping app that helps you make sure you don't leave any money on the table. It helps you get up to 20% cashback when shopping online and request refunds if prices drop after your purchase. It is also available as a browser extension.
With Earny, you don't have to worry about constantly looking for the best deals. You can always shop because if you miss a sale, Earny has your back so you can still get that price.
How does Earny work?
Earny is very easy to use. You can download the app for iPhone or Android or install a browser extension for your desktop.
I decided to download the browser extension for Chrome.
Next, you'll need to sign up for an account. Earny will ask you to connect your email inbox.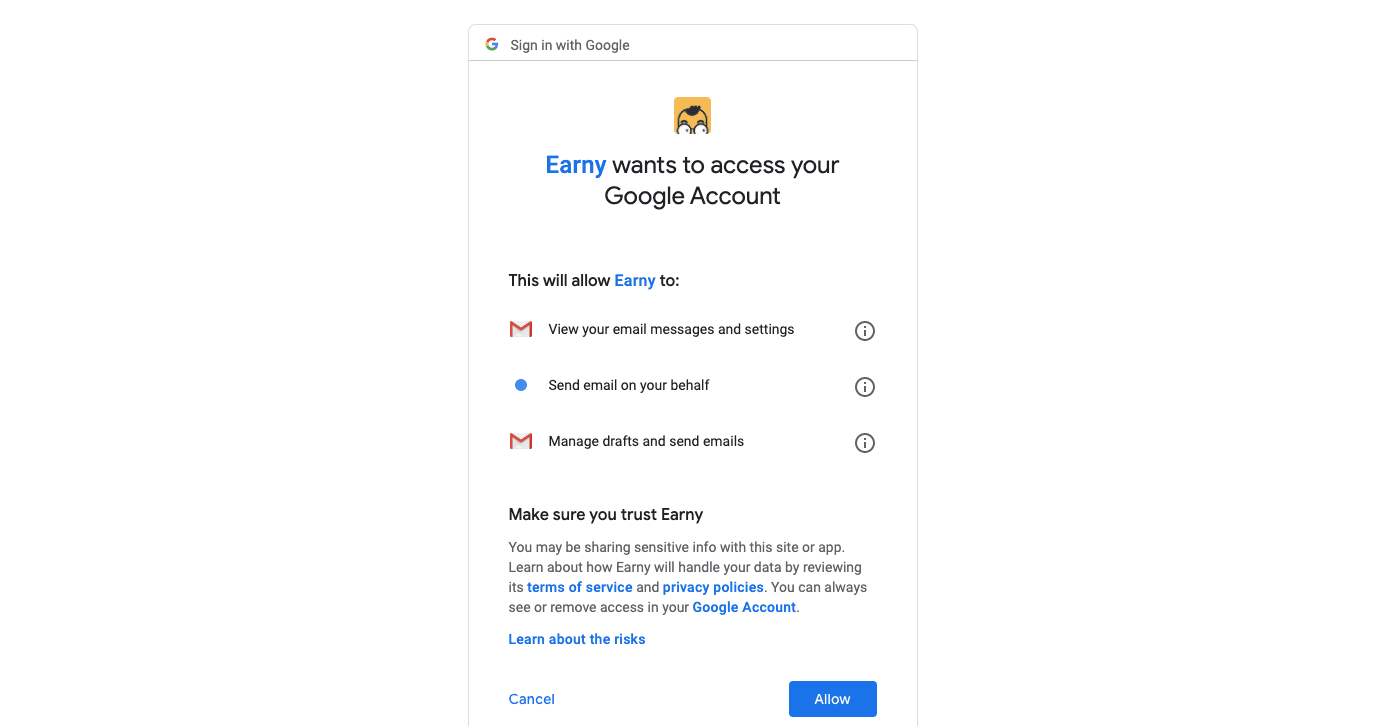 You can see the permissions Earny asks for when you connect your email. I chose to connect it to my Gmail account. It asked my permission:
View your email messages and settings.

Send an email on your behalf.

Manage drafts and send emails.
Those are pretty big requests for an app that I just downloaded. You should be wary of apps that want such unrestricted access to your email account. At this point in the sign up process, I decided not to use this email address anymore as I also connected it to other services and didn't want to take advantage of the risk of a data breach.
For more information about how we use your information, please see Earny's Terms of Use and Privacy Policy. However, you can be sure that your personal information will not be sold to third parties.
If you're using a throwaway email, you might feel a lot more comfortable giving these permissions. In fact, having a completely separate email for online purchases that you don't use for everything else is probably a good idea.
Just make sure you link Earny to the email you use with the online store as this will be how refunds will be found for you.
After you've attached Earny to your email, it searches your inbox for digital purchase receipts and automatically assigns price reductions and discounts to them. Earny constantly monitors the internet for price fluctuations. If Earny finds a lower rate, they'll secure the difference on your behalf.
Note that Earny only works with its partner brands. There are more than 5,000 of these, however, so chances are good your preferred retailer is an Earny Affiliate. Also, note that the price protection does not cover any perishable items such as groceries.
How much does Earny cost?
You can sign up for Earny for $ 19.99 per year, which is less than $ 2 per month. Earny estimates that at that price, you'll see $ 200 worth.
Deserved functions
Earny offers a number of attractive features as well as some additional benefits.
Price protection
Perhaps the most attractive feature is Earny's price protection. By linking your inbox, you'll never have to worry about when to buy again. Just shop when you're ready, and when your item goes up for sale later, Earny will raise your money for you. According to Earny's support page, Earny's 15+ major retailers offer up to 90 days of price protection. Just make sure the email address you register with Earny matches the retailer's email address. Even if a product hits stores in two months, Earny can make the difference for you.
Earny's price protection works with: Best Buy, Bloomingdale, Costco, Gap, Banana Republic, Old Navy, Athleta, J. Crew, Kohl, Macy, Nike, Nordstrom, Target, Zappos and Home Depot.
Cashback
In addition to tracking price drops, you can get money back on your purchases by shopping through the Earny app. When you make a purchase, your cashback will show as Pending on the Earnings tab and will move to Current in 30 to 90 days. When you've accumulated at least $ 15 in cashback, you're ready to withdraw your earnings.
Price tracking and alerts
Add an item to your Earny watchlist and get notified when the price drops so you can take advantage of the lower price immediately.
Amazon delayed shipping
Have you ever been burned by Amazon for not being on time as promised? If so, Earny will help you get an instant refund (up to $ 15) on Amazon – even if you're not a Prime member.
My experience with Earny
I love the Earny premise and don't have to wait for sales when shopping online. Sometimes I want to buy an item on a Thursday even though I know sales won't start until the following Tuesday. With Earny, I don't have to worry about waiting for a sale. I can shop when it suits me and let Earny make the difference for me.
However, I will always be a little careful when converting my email inbox into an app – even if the app helps me save money!
Who is Earny best for?
Earny has a lot going for it at this point, especially if you want to:
Easy refund
Stop waiting for sales and just buy what you need when you need it. Earny will make sure you haven't paid too much.
Cashback when shopping online
If you still want to shop online you can also do so through Earny, where you can earn up to 20% cashback on your purchases.
Popular retailers
No need to worry about limiting yourself to weird brands or stores that you have never heard of. Earned Affiliates with actual, legitimate brands that you are familiar with (and that you likely already have an account with).
Who Shouldn't Use Earny?
Don't go with Earny if you can't afford the annual subscription fee or if you're not a big online buyer. If so, you may not see enough savings to make the fee worth it.