Feeling better prepared after weathering the 2008 recession?
Trapped this statistic in my drafts folder and I have had a harder time reading it again than I did in November!
From a survey by real estate investment startup Concreit:
"Over half of millennials feel" better prepared "for the next recession after experiencing 2008."
More than the half! Not bad!
It would be interesting to see how the same people feel NOW that we are right in the middle of the action (want to check them again, Concreit? :)), but it's still a promising thing to see …
Had asked me if I felt better prepared myself than I did then, which I thankfully can answer with a heartfelt YES, since I've been obsessed with this stuff for 12 years! It would be a big problem if I * not * felt prepared at this point! haha … (although not hard to beat where we were in 2008 considering we just bought a house with no money or no real budget or savings;) thanks for saving me blog community !! And for giving me a much more fulfilling job too !!)
Hopefully you are just as prepared? Even if it's still a bit annoying out there?
Here's another clip that came out of the survey:
"Almost 50% of Millennials (32-38 years old) are actively cutting back on spending and building an emergency fund to prepare for a recession. Only 20% say they are currently doing nothing. "
YES! Brilliant!! A great way to feel more secure in times of uncertainty! These 20% are on!
And finally, here are the top 3 * regret * millennials from the 08's:
Overall lack of financial knowledge / willingness
Do not use investment opportunities
Not building enough of an emergency fund
Total knowledge – Pretty important, hands down, but the basis of everything people already know! You literally just have to spend less than you make! Not that complicated, but difficult to implement. You really have to want it to be bad enough to get it through … From there, it's the details.
Use investment opportunities – Would you like to know when is the best time to invest? 2020 🙂 You will never be able to predict a low point, but with the big discounts, the odds are sure to look pretty! And there are many other options out there if the stock market is not your thing … Like real estate investments that many people make their fortune on!
Emergency fund – Important in everything Times, but much more important in real emergencies … Like now for some people with this pandemic! Although the silver lining? This time you don't have to feel * guilty * using it! Lol … it's literally a state of emergency! 🙂 (Too early?)
Moral of the story: The more you do now, the better you will be later – recessions or no recessions.
I hope so much that you were one of the 50% prepppin and saved !!
Never too late to start if not!
TO UPDATE: I did a quick Twitter poll to see where our audience ranged from here and the results were pretty similar! Even more if you take out the answers "I was still a child back then";)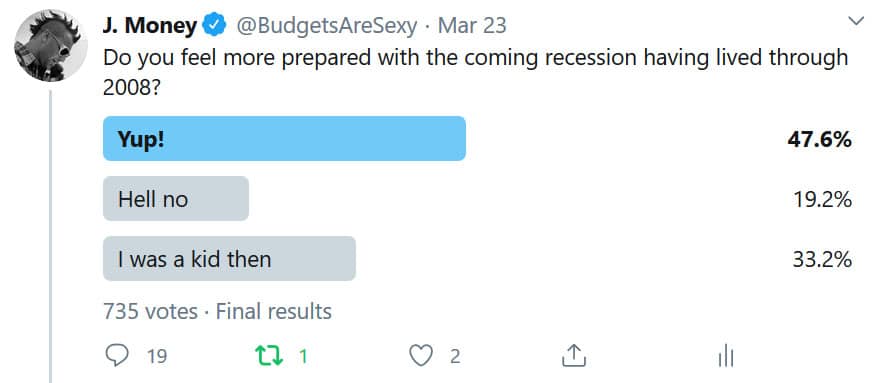 ******
PS: Some of the things we blogged about in 2008 … pretty scary how things are turning!